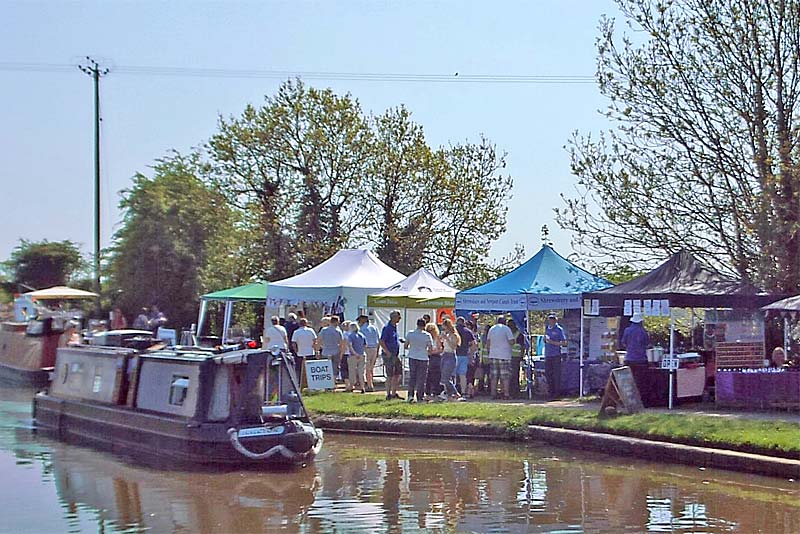 Norbury Canal Festival 2020
what's happening on the day
NOW CANCELLED!
Dear editor or website manager
Many thanks for your past support. Unfortunately, in view of the current coronavirus situation, the organisers of the Norbury Canal Festival have decided that we must cancel this year's festival. Rest assured we will be back next year!
The date of the early May Bank Holiday has been changed to celebrate the anniversary of VE Day so this year's Norbury Canal Festival will be held on Friday 8th – Sunday 10th May.
This year we are aiming to make the Festival the biggest and best so far and as it's a commemoration of VE Day we have adopted this as our theme. It will again be held on both sides of the canal with food, trade and traditional arts and crafts stalls spread along the canal tow path, around Norbury Wharf and in the canalside garden of the Junction Inn. The stalls that used to be in the field behind the pub have been re-located so that they are closer to the other attractions. Lisa Fairy and Windmill Broadcasting will be providing music and information throughout the 3 days and face-painting, plus a Prize Treasure Hunt for children will be available in the pub garden. The pub field will be a Children's' Fairground with fairground rides and stalls.
And parking at this year's Festival will be FREE!
There will be an official Opening Ceremony at midday on the Friday when it is planned that two historic boats will be travelling the length of the rally craft and will have members of the Burton Borough School Brass Band aboard to make sure everyone knows the Festival is officially open! If it's anything like last year this should be very entertaining.
On the water there will be plenty of canal traders and craft boats to add to the atmosphere with regular boat trips along the canal. The 42 seater Shropshire Star will be running four one hour trips on Bank Holiday Friday at 11am, 12.30pm, 2pm and 3.30pm whilst the smaller 10 seater trip boat will be operating regularly throughout the Festival
We are expecting more visiting boats this year and entries are filling up quickly. There will be a Best Looking Boat Competition for the visiting boats. Norbury Wharf will be providing one of the narrowboats for visitors to look around.
The Junction Inn is providing free entertainment at 5.30pm on both Friday and Saturday. The popular Steve "O" band will be performing on Friday and another local band will be entertaining visitors on Saturday. Details of other attractions will be posted on the Shrewsbury & Newport Canals Trust website, Facebook and Twitter as they are booked.
Norbury Junction, Staffordshire, ST20 0PN
where is Norbury Canal Festival 2020?